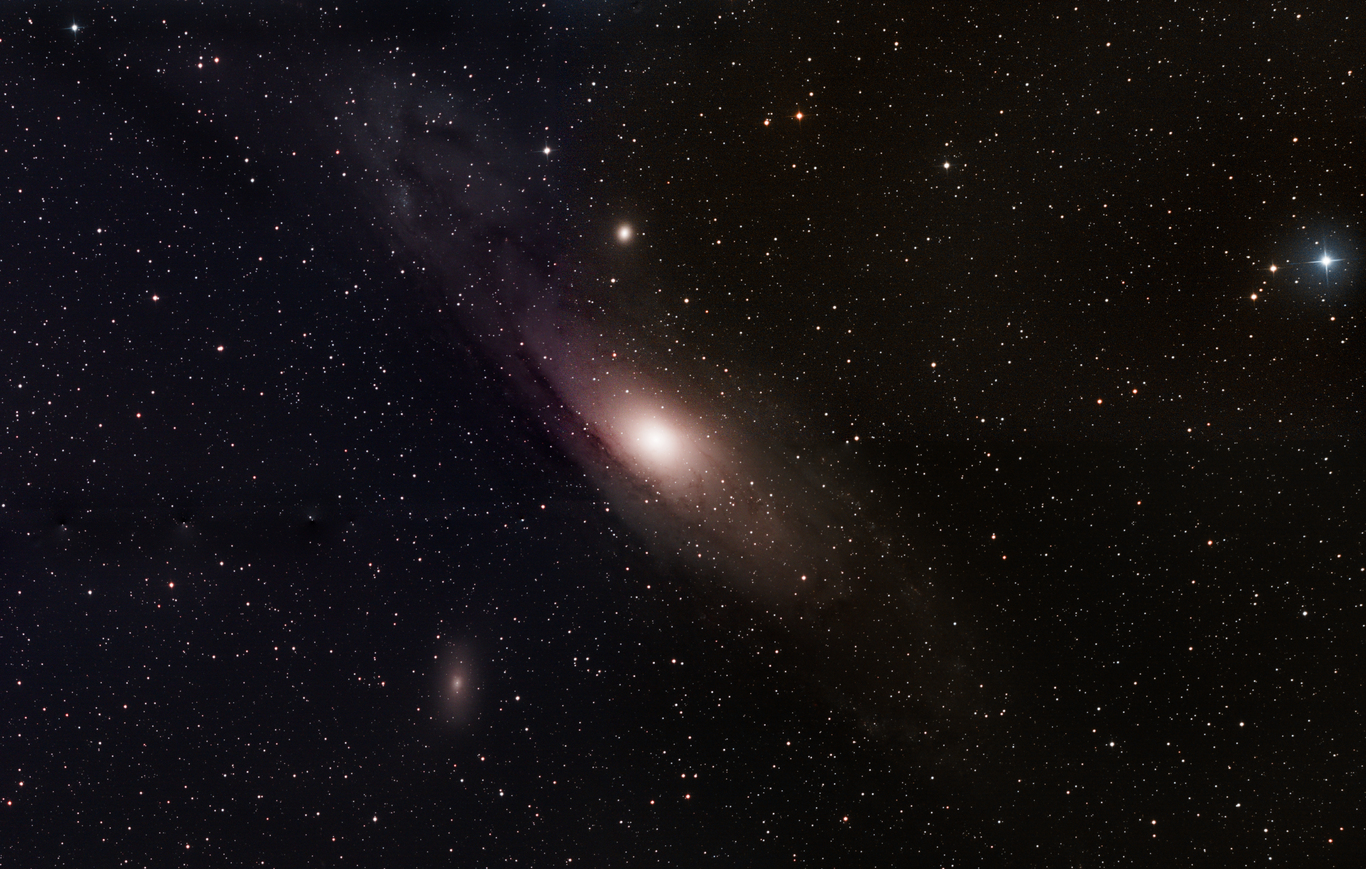 Target Details
The Andromeda Galaxy (Messier 31) is a spiral galaxy approximately 2.5 million light-years from Earth. It is in the constellation of Andromeda. Being approximately 220,000 light years across, it is the largest galaxy of the Local Group, which also contains the Milky Way, the Triangulum Galaxy, and about 44 other smaller galaxies.
The Milky Way and Andromeda galaxies are expected to collide in 4.5 billion years, eventually merging to form a giant elliptical galaxy or perhaps a large disc galaxy. The apparent magnitude of the Andromeda Galaxy, at 3.4, is among the brightest of the Messier objects, making it visible to the naked eye on moonless nights, even when viewed from areas with moderate light pollution.
Capture Details
Data captured 7th & 8th August, 2017.
4 Pane Mosaic in 2x2 Layout
40x 2 minute exposures at ISO400 per pane.
This was a test session to get a feel for the creation of a mosaic in PixInsight. The data was captured under a full moon.
Equipment Details
Skywatcher Quattro 200 CF
NEQ6 Pro
Canon 40d (IR Filter removed)
Skywatcher ST-80
QHY5L-II
Processing Details
This image was processed in Pixinsight & Lightroom.
Calibration and Stacking of each pane seperately.
Dynamic Crop - Each pane was cropped to remove any black edges.
Automatic Background Extraction - Applied to each pane to remove background gradients.
Star Alignment - To create mosaic layout and registration data.
Gradient Merge Mosaic - To create mosiac image.
Dynamic Crop - To remove black edges and gaps in the mosaic.
Photometric Colour Calibration - To colour calibrate the image.
SCNR - To remove green tinge.
Deconvolution - To bring out some fine detail. (Not very effective in this image due to lack of good data)
Multiscale Linear Transform - Noise reduction.
Histrogram Transformation - To stretch the image and bring out the data.
Curves Transformation - To increase contrast.
Histogram Transformation - To darken background, using RangeMask to protect galaxy centre.
Histogram Transformation - To darken background, using StarMask to protect stars.
Curves Transformation - To add more contrast, using StarMask to protect stars.
Export as JPEG and import into Lightroom.
Darken blacks slightly (-15)
Use local adjustment brush to darken some artifacts from merge process. (-.05 stop exposure)
Increase saturation (+25)
Export final JPEG for upload.
.