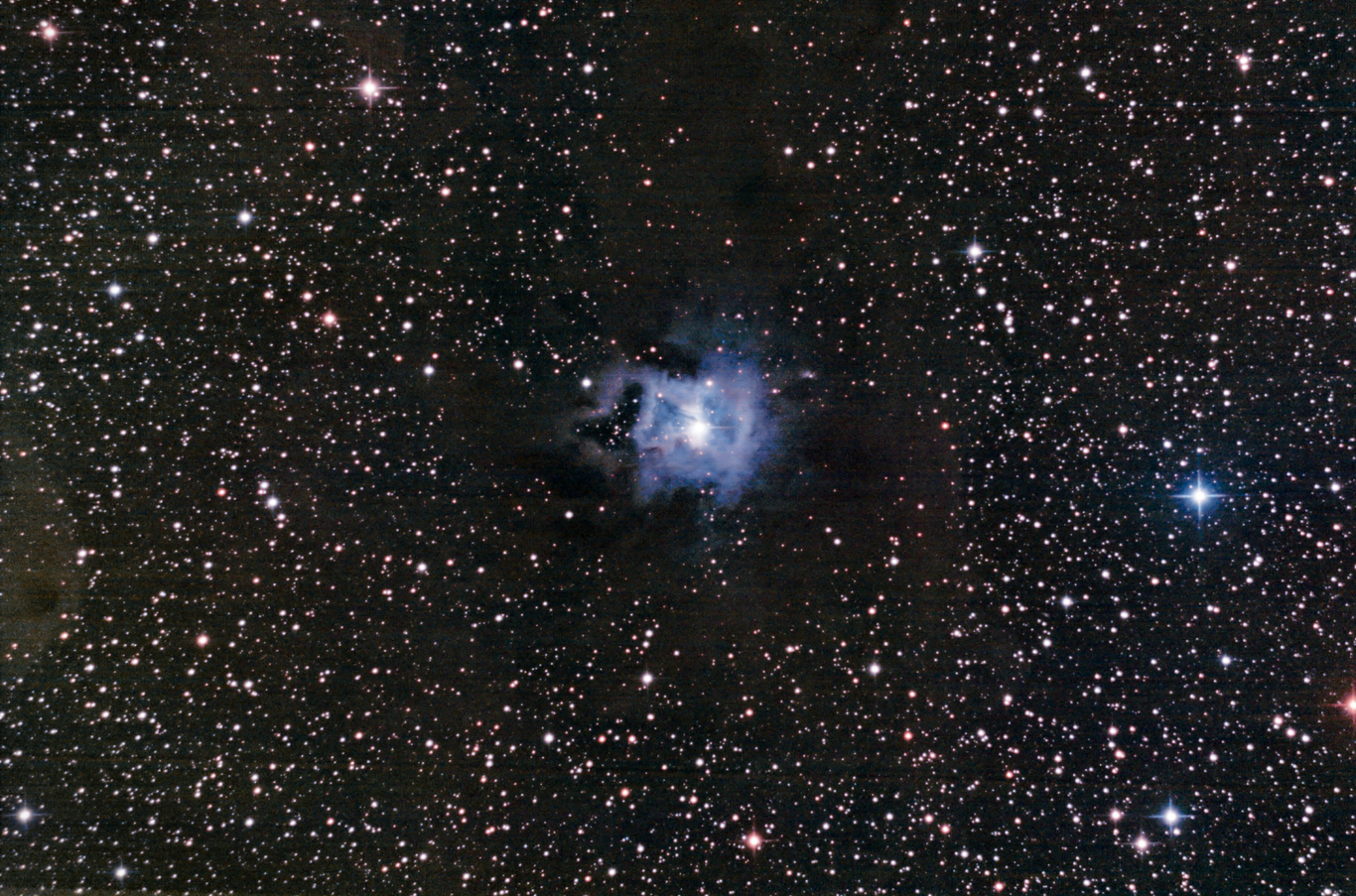 Target Details
The Iris Nebula, also NGC 7023 and Caldwell 4, is a bright reflection nebula and Caldwell object in the constellation Cepheus. NGC 7023 is actually the cluster within the nebula,the nebula is lit by a magnitude +7 star, SAO 19158. It shines at magnitude +6.8, it lies 1,300 light-years away and is six light-years across.
Capture Details
Data captured 24 September, 2017.
47x 10 minute exposures at ISO400.
Equipment Details
Skywatcher Quattro 200 CF
NEQ6 Pro
Canon 40d (IR Filter removed)
Skywatcher ST-80
QHY5L-II
Processing Details
This image was processed in Pixinsight & Lightroom.
Calibration and Stacking in Pixinsight.
Dynamic Crop - To remove black edges & integration artifacts.
Dynamic Background Extraction - To remove gradients.
Canon Banding Reduction script - To remove horizontal lines. (In this image it wasn't as effective as usual)
Photometric Colour Calibration - To colour calibrate the image.
Deconvolution - To bring out some fine detail.
Multiscale Linear Transform - Noise reduction.
Histrogram Transformation - To stretch the image and bring out the data.
TVGDenoise - Noise Reduction.
Curves Transformation - To increase contrast, without mask.
Local Histogram Equialisation - To sharpen and increase detail in dust, without mask.
Multiscale Linear Transform - To sharpen and increase detail, without mask.
Curves Transformation - To enhance blue, using starless mask.
Dark Structure Enhance - To bring out some detail surrounding the nebula core.
Export as JPEG and import into Lightroom.
Enhance Contrast (+25)
Clip Whites (-25)
Clip Blacks (-25)
Blue Saturation (+50)
Luminance (+50)
Graduated Filter to remove green cast in top and bottom left. Exposure (-0.5)
Export final JPEG for upload.