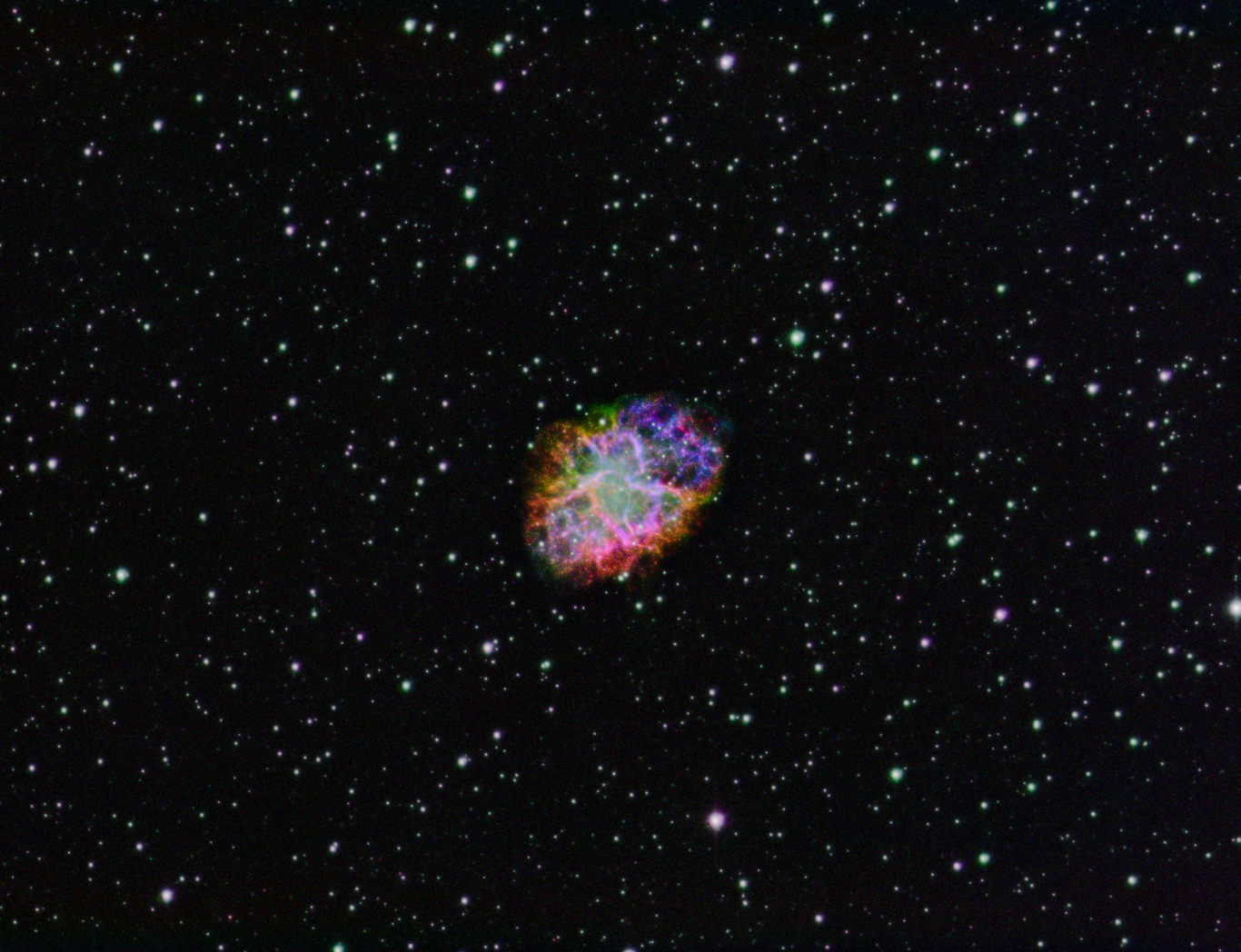 Target Details
The Crab Nebula (catalogue designations M1, NGC 1952, Taurus A) is a supernova remnant in the constellation of Taurus. The now-current name is due to William Parsons who observed the object in 1840 using a 36-inch telescope and produced a drawing that looked somewhat like a crab. The nebula was the first astronomical object identified with a historical supernova explosion.
At an apparent magnitude of 8.4, comparable to that of Saturn's moon Titan, it is not visible to the naked eye but can be made out using binoculars under favourable conditions. The nebula lies in the Perseus Arm of the Milky Way galaxy, at a distance of about 6,500 ly from Earth.
At the center of the nebula lies the Crab Pulsar, a neutron star 28–30 kilometres (17–19 mi) across with a spin rate of 30.2 times per second, which emits pulses of radiation from gamma rays to radio waves. The inner part of the nebula is a much smaller pulsar wind nebula that appears as a shell surrounding the pulsar.
Capture Details
Data captured 12 November, 2017.
17x 5 minute exposures with Ha filter.
14x 5 minute exposures with Sii filter.
15x 5 minute exposure with Oiii filter.
Equipment Details
Skywatcher Quattro 200 CF
NEQ6 Pro
Starlight Xpress SX-674 Mono
Skywatcher ST-80
QHY5L-II
Processing Details
This image was processed in Pixinsight & Lightroom.

Calibration and Stacking in Pixinsight using Batch PreProcessing
Dynamic Crop - To remove black edges & integration artifacts. (Each Channel)
Dynamic Background Extraction - To remove gradients. (Each Channel)
Deconvolution - To bring out some fine detail & tighten stars. (Each Channel)
Multiscale Linear Transform - Noise reduction. (Each Channel)
Masked Stretch - To stretch the image and bring out the data. (Each Channel)
Channel Combination - To combine the channels using the HOS Palette.
Local Histogram Equalisation - To improve contrast. With starless mask in place.
Multiscale Linear Transform - To Sharpen. With staress mask in place.
Curves Transformation - To increase Contrast. With staress mask in place.
Curves Transformation - To increase Saturation. With staress mask in place.
Curves Transformation - To boost brightness using Luminance channel. With staress mask in place.
Export as JPEG and import into Lightroom.
Enhance Contrast (+50)
Clip Shadows (-25)
Clip Blacks (-25)
Boost Saturation (+15)
Export final JPEG for upload.