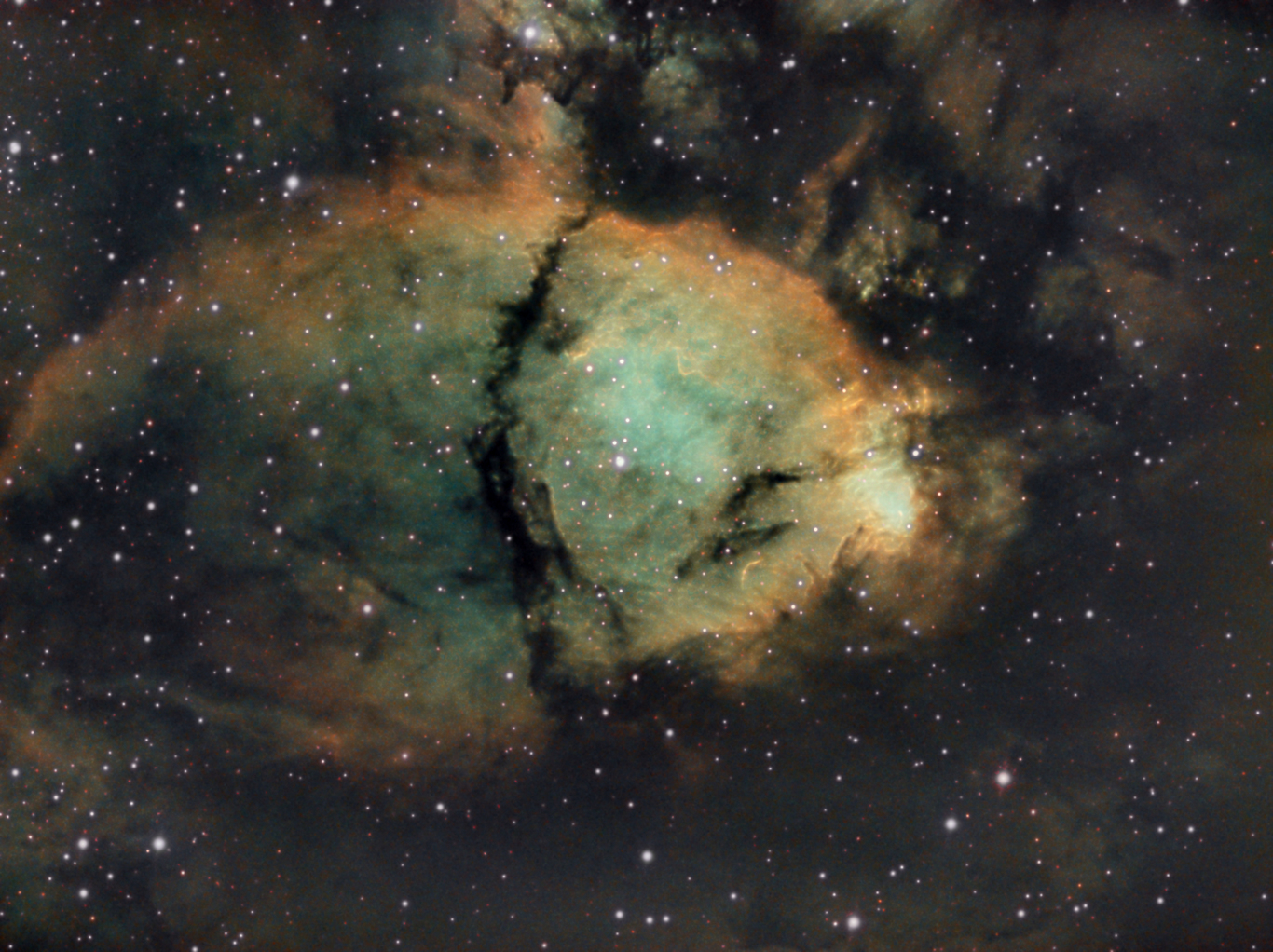 Target Details
The Fish Head Nebula, also known as IC1795, is located next to the Heart Nebula. It is a star forming region in the northern constellation Cassiopeia. It is just over 6,000 Ly from Earth.
Capture Details
Data captured 28 & 30 November, 2017.
67x 3 minute exposures with Ha filter.
118x 3 minute exposures with Sii filter.
73x 2 minute exposure with Oiii filter.
Equipment Details
Skywatcher Quattro 200 CF
NEQ6 Pro
Starlight Xpress SX-674 Mono
Skywatcher ST-80
QHY5L-II
Processing Details
This image was processed in Pixinsight & Lightroom.
Calibration and Stacking in Pixinsight using Batch PreProcessing
Dynamic Crop - To remove black edges & integration artifacts. (Each Channel)
Automatic Background Extraction - To remove gradients. (Each Channel)
Deconvolution - To bring out some fine detail & tighten stars, 50 iterations. (Each Channel)
Multiscale Linear Transform - Noise reduction. (Each Channel)
Histogram Transformation - To stretch the image and bring out the data, stars imported from Masked Stretch Clone. (Each Channel)
UnsharpMask - To sharpen with mask in place to exclude stars & background.
SHO-AIP Script - To combine the channels using the SHO Palette.
Curves Transformation - Desaturate with Magenta mask in place.
Curves Transformation - Reduce Green with Green mask in place.
Curves Transformation - Increase Red with Yellow mask in place.
Curves Transformation - To increase Contrast.
Dark Structure Enhance - To boost detail in dark areas.

Export as JPEG and import into Lightroom.
Clip Blacks (-30)
Boost Vibrance (+25)
Export final JPEG for upload.