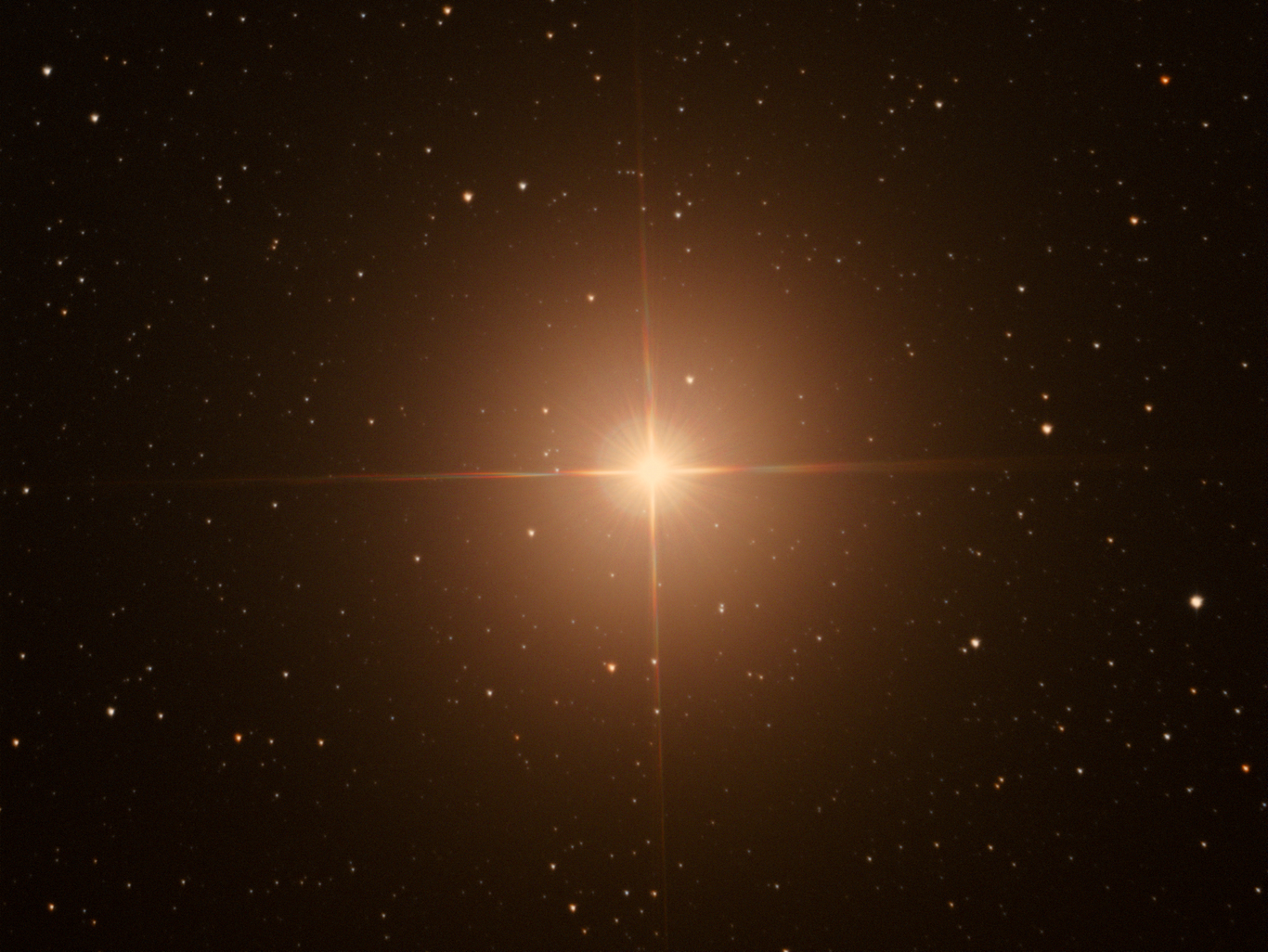 Target Details
Betelgeuse, also designated Alpha Orionis, is the ninth-brightest star in the night sky and second-brightest in the constellation of Orion. It is distinctly reddish, and is a semiregular variable star whose apparent magnitude varies between 0.0 and 1.3. It would be the brightest star in the night sky if the human eye could view all wavelengths of radiation.
Classified as a red supergiant of spectral type M1-2, the star is one of the largest and most luminous stars visible to the naked eye. If Betelgeuse were at the center of the Solar System, its surface would extend past the asteroid belt, wholly engulfing the orbits of Mercury, Venus, Earth, Mars, and possibly Jupiter.
It is calculated to be 640 light-years away, yielding an absolute magnitude of about −6. Less than 10 million years old, Betelgeuse has evolved rapidly because of its high mass. Having been ejected from its birthplace in the Orion OB1 Association—which includes the stars in Orion's Belt—this runaway star has been observed moving through the interstellar medium at a speed of 30 km/s, creating a bow shock over four light-years wide. Currently in a late stage of stellar evolution, the supergiant is expected to explode as a supernova within the next million years.
Capture Details
Data captured 17th February, 2018.
13x 30 second exposures with Blue filter.
13x 30 second exposures with Green filter.
16x 30 second exposures with Red filter.
Equipment Details
Skywatcher Quattro 200 CF
NEQ6 Pro
Atik 428EX Mono
Skywatcher ST-80
QHY5L-II
Processing Details
This image was processed in Pixinsight & Lightroom.
Calibration and Stacking in Pixinsight using Batch PreProcessing.
Channel Combination - To combine RGB channels.
Photometric Colour Calibration - To calibrate colours.
SCNR - To remove green cast.
Multiscale Linear Transform - Noise reduction. (Each Channel)
Histogram Transformation - To stretch the image.
Histogram Transformation - To Clip Blacks.
Export as JPEG and import into Lightroom.
Contrast Boost (+20)
Clip Blacks (-50)
Increase Saturation (+10)
Export final JPEG for upload.