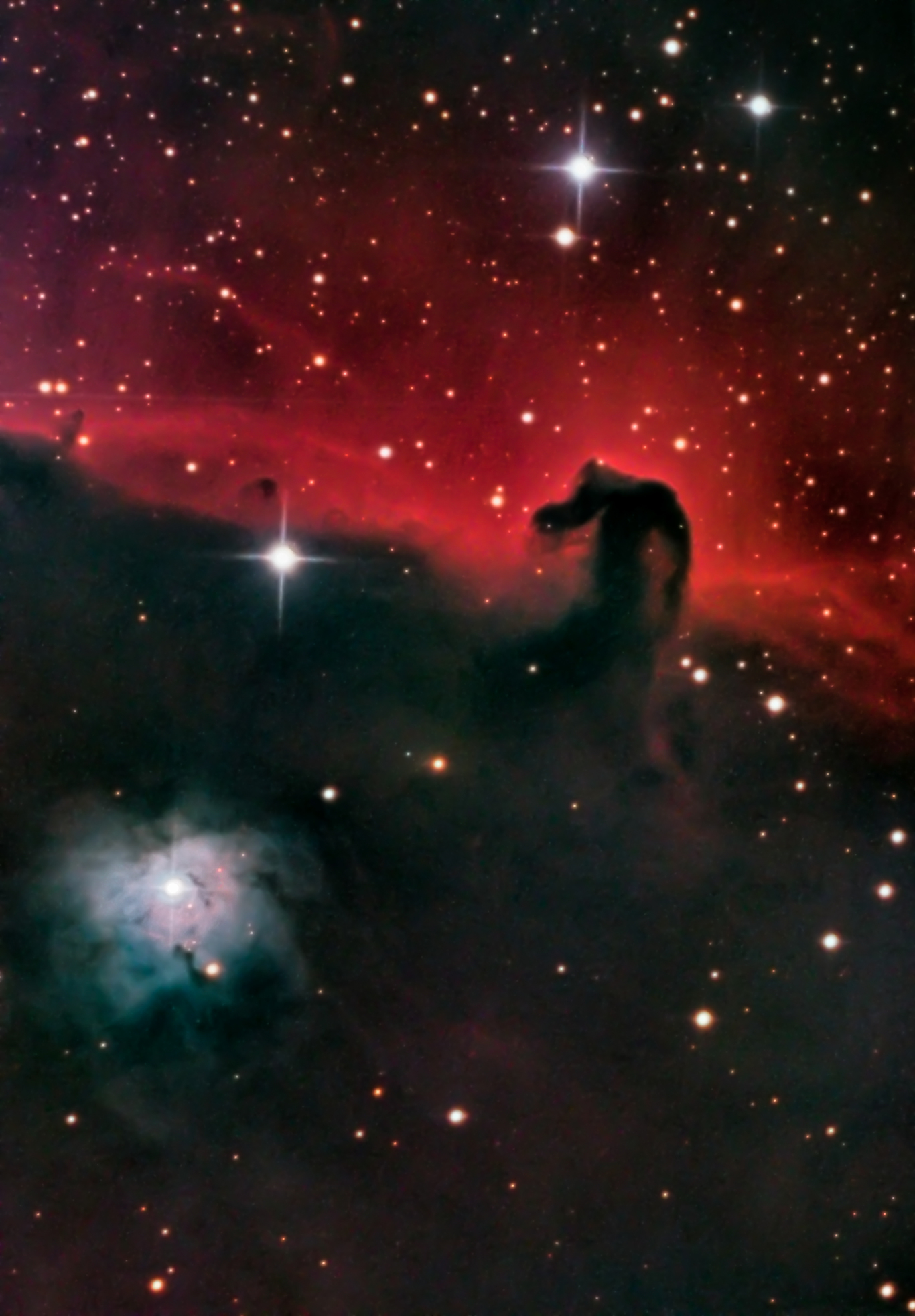 Target Details
The Horsehead Nebula (also known as Barnard 33) is a dark nebula in the constellation Orion. The nebula is located just to the south of the star Alnitak, which is farthest east on Orion's Belt, and is part of the much larger Orion Molecular Cloud Complex.
The Horsehead Nebula is approximately 1500 light years from Earth. It is one of the most identifiable nebulae because of the shape of its swirling cloud of dark dust and gases, which bears some resemblance to a horse's head when viewed from Earth.
NGC 2023, to the lower left of the image, is an emission and reflection nebula located in the constellation of Orion. At a distance of 1467 light years from Earth, it is located close to the Orion Nebula. The region emits fluorescent molecular hydrogen emission at near-infrared range. It is 4 light years in diameter making it one of the largest reflection nebulae ever discovered. It is illuminated by the B1.5 star HD 37903, the most luminous member of the stars in the Lynds 1630 molecular cloud.
Capture Details
Data captured 13th, 14th & 15th February, 2018.
15x 3 minute exposures with Blue filter (Binned 2x2).
15x 3 minute exposures with Green filter (Binned 2x2).
15x 3 minute exposures with Red filter (Binned 2x2).
59x 3 minute exposures with Luminance filter.
Total Exposure 5.2 hours.
Equipment Details
Skywatcher Quattro 200 CF
NEQ6 Pro
Atik 428EX Mono
Skywatcher ST-80
QHY5L-II
Processing Details
This image was processed in Pixinsight & Lightroom.
Calibration and Stacking in Pixinsight using Batch PreProcessing.
Dynamic Crop - To remove black edges & integration artifacts. (Each Channel)
Dynamic Background Extraction - To remove gradients. (Each Channel)
Channel Combination - To combine RGB channels.
Photometric Colour Calibration - To calibrate colours.
Deconvolution - To bring out some fine detail & tighten stars, 50 iterations. (Luminance only)
Multiscale Linear Transform - Noise reduction. (RGB & Luminance seperately)
Histogram Transformation - To stretch the image.
LRGB Combination - To blend my luminance image with my RGB image.
TVGDenoise - Noise Reduction to LRGB image.
Channel Extraction - To extract Luminance.
Local Fuzzy Histogram Hyperbolization - To boost contrast, blended 50% with extracted Lum.
HDR Multiscale Transform - To recover some detail in NGC 2023.
Dark Structure Enhance - To boost detail in dark areas.
Curves Transformation - Increase saturation to entire image.
Curves Transformation - Increase Saturation of red, red mask in place.
TVGDenoise - To denoise background, with inverted rangemask in place.
Export as JPEG and import into Lightroom.
Contrast Boost (+25)
Clip Blacks (-15)
Noise Reduction - Luminance (+75)
Export final JPEG for upload.