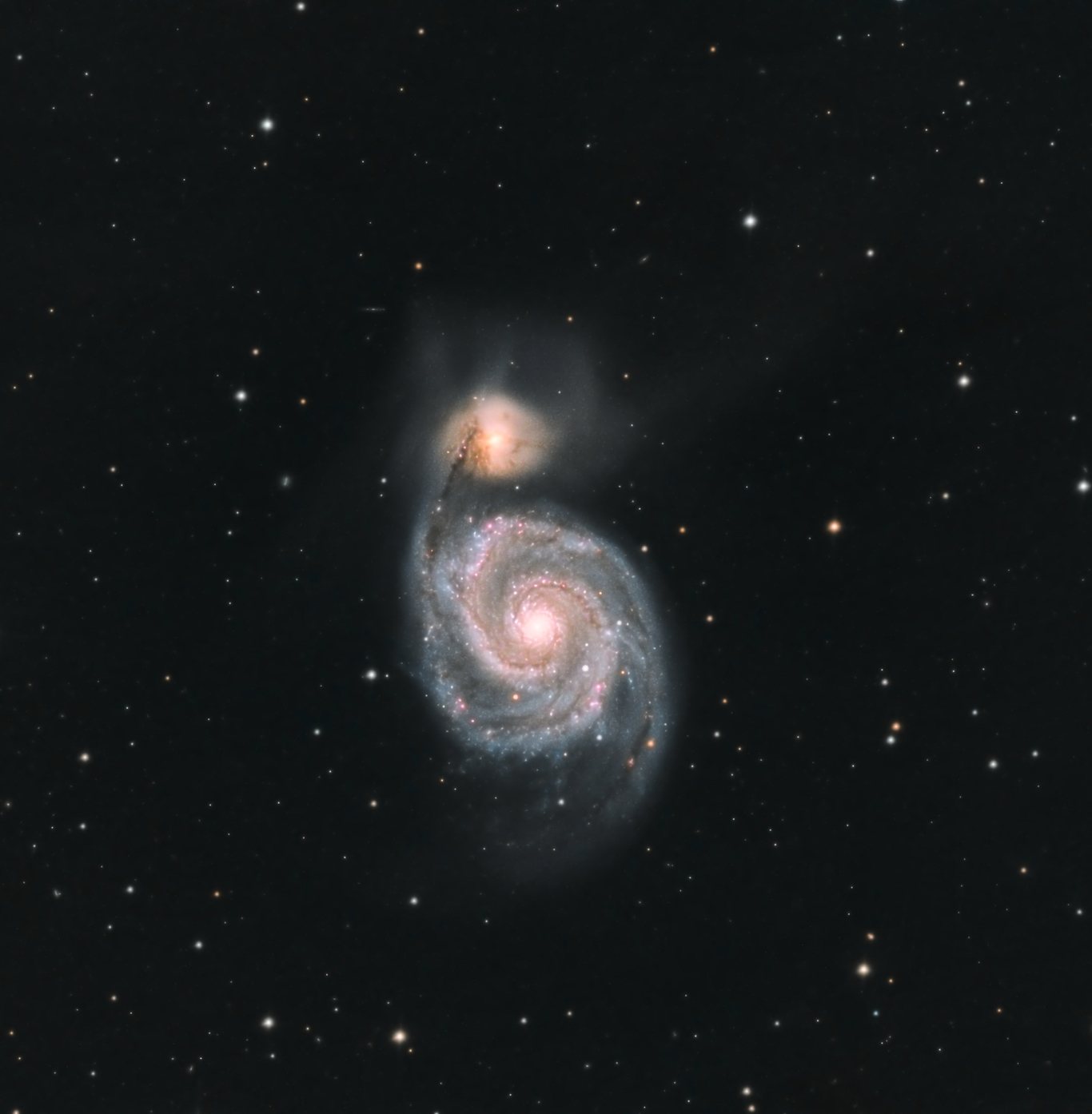 Target Details
The Whirlpool Galaxy, also known as Messier 51a, M51a, and NGC 5194, is an interacting grand-design spiral galaxy with a Seyfert 2 active galactic nucleus. It lies in the constellation Canes Venatici, and was the first galaxy to be classified as a spiral galaxy. Its distance is estimated to be between 15 and 35 million light-years.
The galaxy and its companion, NGC 5195, are easily observed by amateur astronomers, and the two galaxies may be seen with binoculars. The Whirlpool Galaxy has been extensively observed by professional astronomers, who study it to understand galaxy structure (particularly structure associated with the spiral arms) and galaxy interactions.
This image was published in the Hotshots section of BBC Sky at Night magazine, June 2018. It was the first image of mine that was published.
Capture Details
Data captured 20th & 21st March, 2018.
32x 3 minute exposures with Blue filter (Binned 2x2).
28x 3 minute exposures with Green filter (Binned 2x2).
30x 3 minute exposures with Red filter (Binned 2x2).
137x 3 minute exposures with Luminance filter.
Total Exposure = 11.3 hours.
Equipment Details
Skywatcher Quattro 200 CF
NEQ6 Pro
Atik 428EX Mono
Skywatcher ST-80
QHY5L-II
Processing Details
This image was processed in Pixinsight & Lightroom.
Calibration and Stacking in Pixinsight using Batch PreProcessing
Dynamic Crop - To remove black edges & integration artifacts. (Each Channel)
Automatic Background Extraction - To remove gradients. (RGB & Lum separately)
Channel Combination - To combine RGB channels.
Background Neutralisation - To neutralise background.
Colour Calibration - To calibrate colours.
SCNR - To remove green cast.
Deconvolution - To bring out some fine detail & tighten stars, 50 iterations. (Luminance only)
Multiscale Linear Transform - Noise reduction. (RGB & Lum separately)
Histogram Transformation - To stretch the RGB & Lum. (Using statistics process to keep background levels evenly)
LRGB Combination - To blend my luminance image with my RGB image.
Histogram Transformation - To clip blacks.
UnsharpMask - To sharpen with mask in place to exclude stars & background.
Curves Transformation - To boost contrast.
TVGDenoise - To denoise background, with previous sharpening mask in place but inverted.
Morphological Transformation: Erosion - To reduce stars slightly.
Clonestamp - To remove two large dust donuts.
Export as JPEG and import into Lightroom.
Increase Saturation (+15)
Export final JPEG for upload.