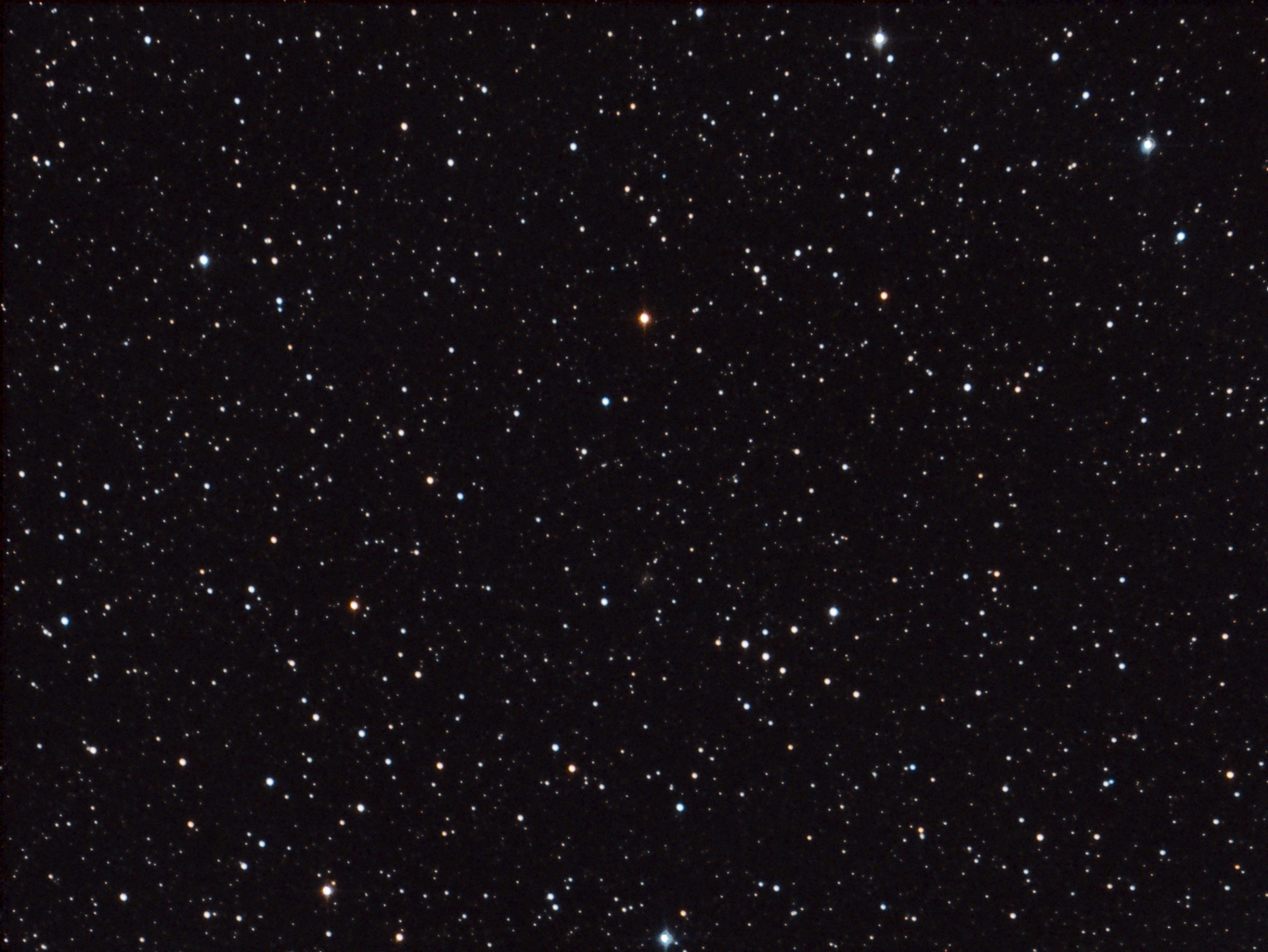 Target Details
Barnard's Star is a very low mass red dwarf which is located around 6 light-years from Earth. It is the fourth nearest individual star to the Sun, and the second nearest if you count the Alpha Centauri system as 1 entity. It is the red star slightly above the centre of the image.
Interestingly, because it is so close to Earth it is perceived to move by 10.3 arcseconds per year. This is the largest proper motion of any star relative to the Sun.
It has a magnitude of 9.5, making it too dim to see with the naked eye, and is between 7 and 12 billion years old. This is considerably older than the Sun, which is a mere 4.5 billion years old.
Capture Details
Data captured 03 September, 2018.
10x 2 minute exposures with Red filter.
10x 2 minute exposures with Green filter.
10x 2 minute exposures with Blue filter.
Total Exposure: 1 hour.
Equipment Details
Skywatcher Quattro 200 CF
NEQ6 Pro
Atik 428EX Mono
Skywatcher ST-80
QHY5L-II
Processing Details
This image was processed in Pixinsight & Lightroom.
Calibration and Stacking in Pixinsight.
Automatic Background Extraction - To Remove Gradients. (All channels separately)
Channel Combination - To create RGB image.
Photometric Color Calibration - To colour calibrate the image.
SCNR - To neutralise green.
Deconvolution - To tighten up the stars.
Histogram Transformation - To stretch the image.
Histogram Transofrmation - To clip blacks slightly.
Curves Transformation - To increase contrast.
Curves Transformation - To boost saturation slightly.
Star Reduction Script - To reduce star size slightly.
Export as JPEG and import into Lightroom.
Enhance Contrast (+15)
Clip Blacks Slightly (-20)
Local Adjustment Brush - Desaturate two artifacts from deconvolution
Export final JPEG for upload