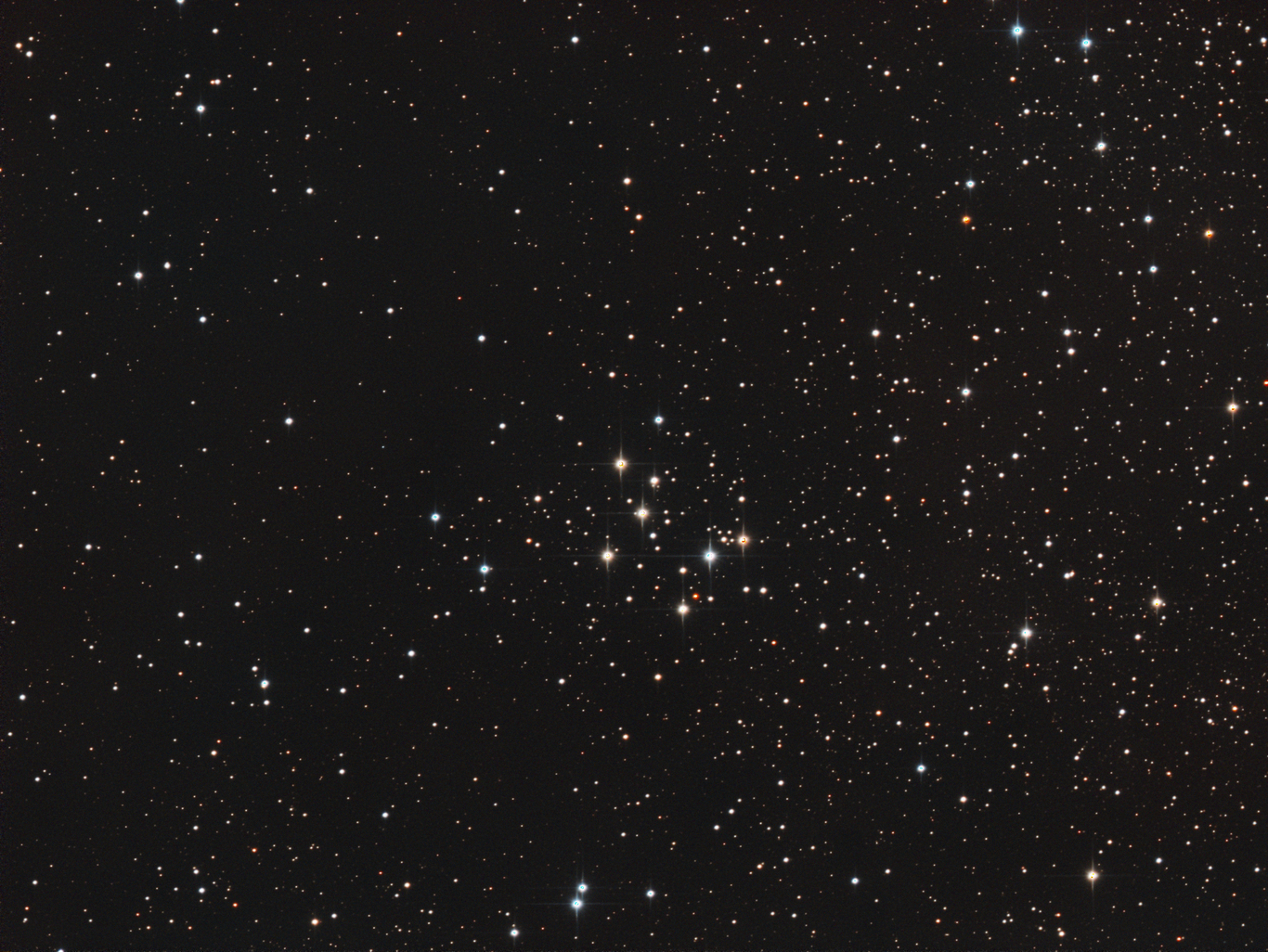 Target Details
Messier 29 (also known NGC 6913) is an open cluster in the Cygnus constellation. The star cluster is situated in the highly crowded area of Milky Way near Gamma Cygni, at a distance of 6,000 light years.
Interestingly as I processed my image data I noticed that the upper right of the image has some faint red nebulosity, some further research shows that it is indeed located on the edge of a large and complex nebulous region that also contains the Crescent nebula. To bring this nebulosity out in my image I would need to increase the total exposure time considerably, perhaps using a Ha filter
According to the Sky Catalog 2000, Messier 29 is included in the Cygnus OB1 association, and is approaching us at 28 km/s. Its age is estimated at 10 million years, as its five hottest stars are all giants of spectral class B0. The Night Sky Observer's Guide gives the apparent brightness of the brightest star as 8.59 visual magnitudes. The absolute magnitude may be an impressive -8.2 mag, or a luminosity of 160,000 Suns. The linear diameter was estimated at only 11 light years.
This is a target I will revisit in the future as I hadn't realised just how interesting it is.

Capture Details
Data captured 16 & 17 October, 2018.
40x 2 minute exposures with Luminance filter.
25x 1 minute exposures with Red filter.
26x 1 minute exposures with Green filter.
22x 1 minute exposures with Blue filter.
Total Exposure: 2.5 hours.
Equipment Details
Skywatcher Quattro 200 CF
NEQ6 Pro
Atik 428EX Mono
Skywatcher ST-80
QHY5L-II
Processing Details
This image was processed in Pixinsight & Lightroom.
Calibration and Stacking in Pixinsight.
Dynamic Background Extraction - To Remove Gradients. (All channels separately)
Channel Combination - To create RGB image.
Photometric Color Calibration - To colour calibrate the image.
SCNR - To neutralise green.
LRGB Combination - To create LRGB image
Deconvolution - To tighten up the stars.
Histogram Transformation - To stretch the image.
Curves Transformation - To increase contrast.
Curves Transformation - To boost saturation slightly.
Histogram Transofrmation - To clip blacks slightly.

Export as JPEG and import into Lightroom.
Enhance Contrast (+17)

Export final JPEG for upload