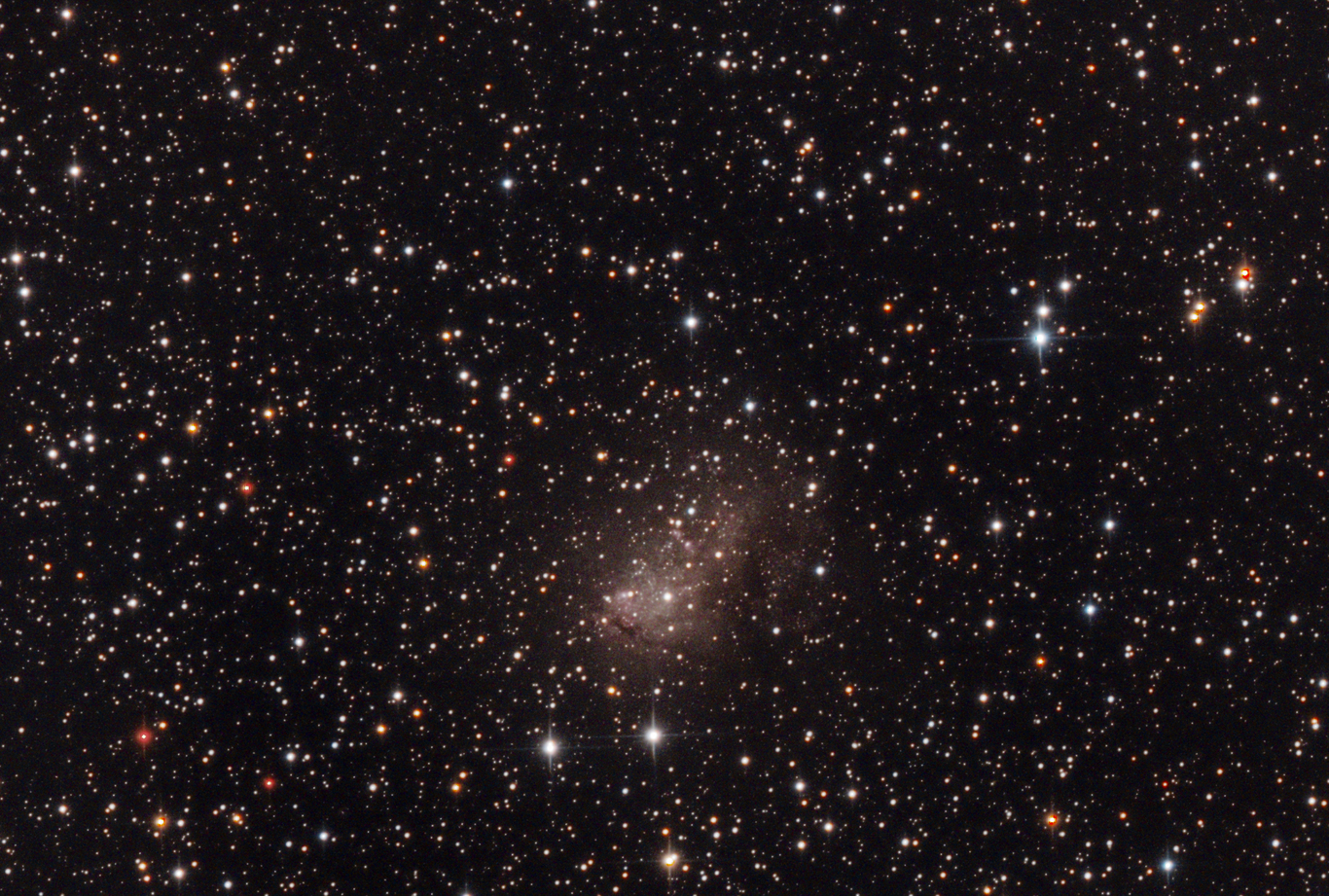 Target Details
IC10 is an irregular galaxy in the constellation Cassiopeia, it is a member of our local group of galaxies. The apparent distance between IC 10 and the Andromeda Galaxy is about the same as the apparent distance between the Andromeda Galaxy and the Triangulum Galaxy, which suggests that IC 10 may belong to the M31 subgroup.
IC 10 is the only known starburst galaxy in the Local Group of galaxies. It is located around 2.2 million Lightyears from Earth.
This target was one that I was unsure how it would turn out, after two nights imaging and 10+ hours of total exposue I believe this target is too dim for my current equipment. It was challenging to process and I was in two minds about actually uploading it but decided to put it up anyway as it is at least a record of time spent pushing the limits of what I can do.

Capture Details
Data captured 17th October & 1st November, 2018.
33x 2 minute exposures with Blue filter (Binned 2x2).
42x 2 minute exposures with Green filter (Binned 2x2).
43x 2 minute exposures with Red filter (Binned 2x2).
159x 3 minute exposures with Luminance filter.
Total Exposure = 11.3 hours.
Equipment Details
Skywatcher Quattro 200 CF
NEQ6 Pro
Atik 428EX Mono
Skywatcher ST-80
QHY5L-II
Processing Details
This image was processed in Pixinsight & Lightroom.
Calibration and Stacking in Pixinsight using Batch PreProcessing
Dynamic Crop - To remove black edges & integration artifacts. (Each Channel)
Dynamic Background Extraction - To remove gradients. (Each Channel separately)
Linear Fit - To equalise the RGB channel brightness.
Channel Combination - To combine RGB channels.
Photometric Colour Calibration - To calibrate colours (Each Pane separately).
SCNR - To remove green cast (Each Pane separately).
Deconvolution - To bring out some fine detail & tighten stars, 50 iterations. (Luminance only)
Multiscale Linear Transform - To noise reduce the Luminance only.
LRGB Combination - To blend my luminance image with my RGB image.
Histogram Transformation - To stretch the LRGB image.
Curves Transformation - To boost contrast.
Histogram Transformation - To clip blacks slightly.
Export as JPEG and import into Lightroom.
Increase Contrast (+15)
Darken Whites (-25)
Darken Blacks (-15)
Reduce Saturation for a few red stars using local adjustment brush (-50)
Export final JPEG for upload.