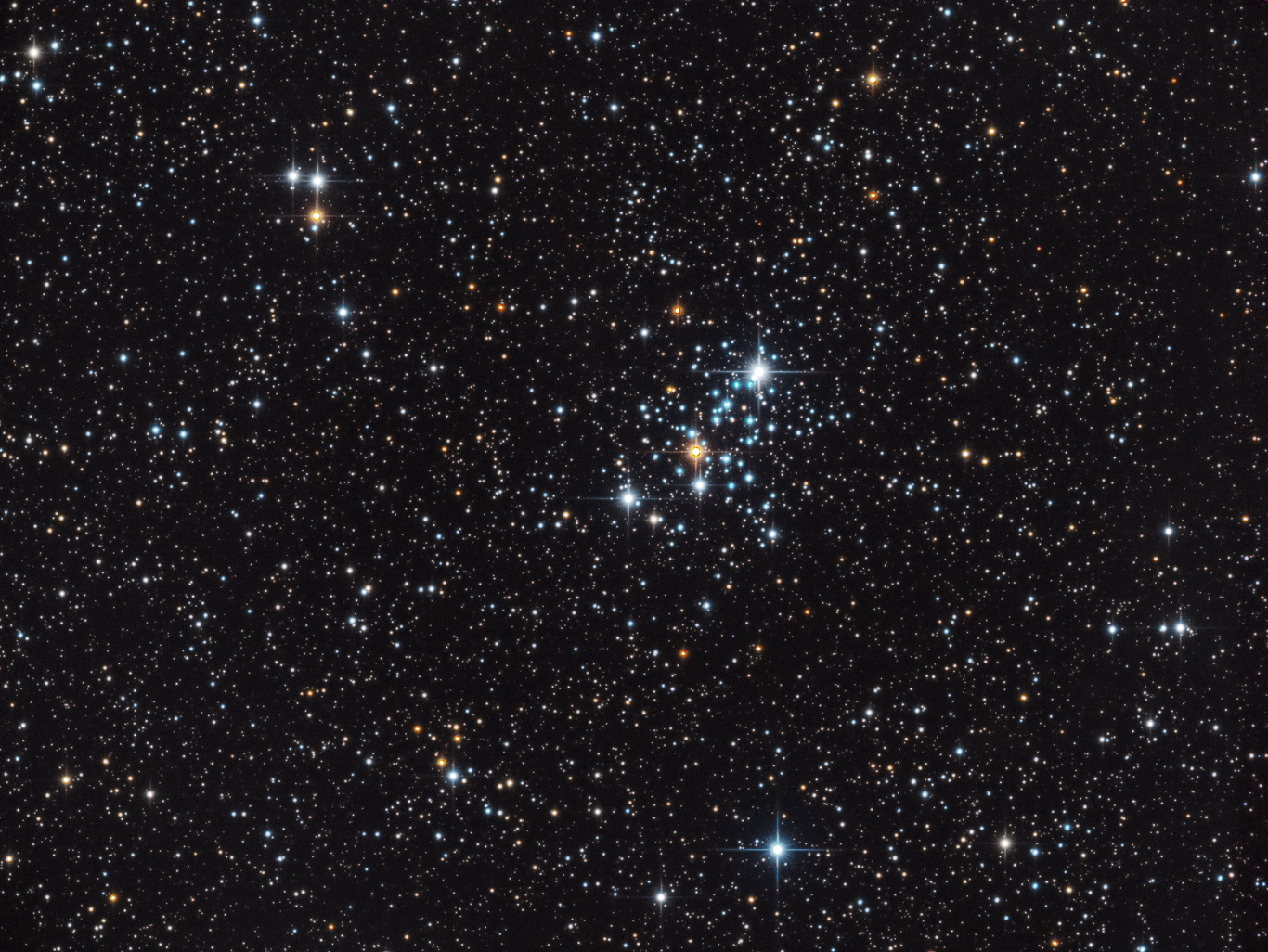 Target Details
Messier 103 (also known as M103, or NGC 581) is an open cluster where a few thousand stars formed in the constellation Cassiopeia. It is one of the most distant open clusters known, with distances of 8,000 to 9,500 light-years from the earth and ranging about 15 light-years apart. There are about 40 member stars within M103, two of which have magnitudes 10.5, and a 10.8 red giant, which is the brightest within the cluster. Observation of M103 is generally dominated by the appearance of Struve 131, though the star is not a member of the 172-star cluster. M103 is about 25 million years old.
Capture Details
Data captured 17th October & 1st November, 2018.
14x 2 minute exposures with Blue filter (Binned 2x2).
15x 2 minute exposures with Green filter (Binned 2x2).
14x 2 minute exposures with Red filter (Binned 2x2).
25x 3 minute exposures with Luminance filter.
Total Exposure = 2.7 hours.
Equipment Details
Skywatcher Quattro 200 CF
NEQ6 Pro
Atik 428EX Mono
Skywatcher ST-80
QHY5L-II
Processing Details
This image was processed in Pixinsight & Lightroom.
Calibration and Stacking in Pixinsight using Batch PreProcessing
Automatic Background Extraction - To remove gradients. (Each Channel separately)
Linear Fit - To equalise the RGB channel brightness.
Channel Combination - To combine RGB channels.
Photometric Colour Calibration - To calibrate colours.
SCNR - To remove green cast.
Deconvolution - To tighten stars, 50 iterations. (Luminance & Red Only)
Multiscale Linear Transform - To noise reduce the Luminance only.
LRGB Combination - To blend my luminance image with my RGB image.
Histogram Transformation - To stretch the LRGB image.
Curves Transformation - To boost contrast.
Export as JPEG and import into Lightroom.
Increase Contrast (+20)
Darken Blacks (-20)
Increase Vibrance (+50)
Export final JPEG for upload.