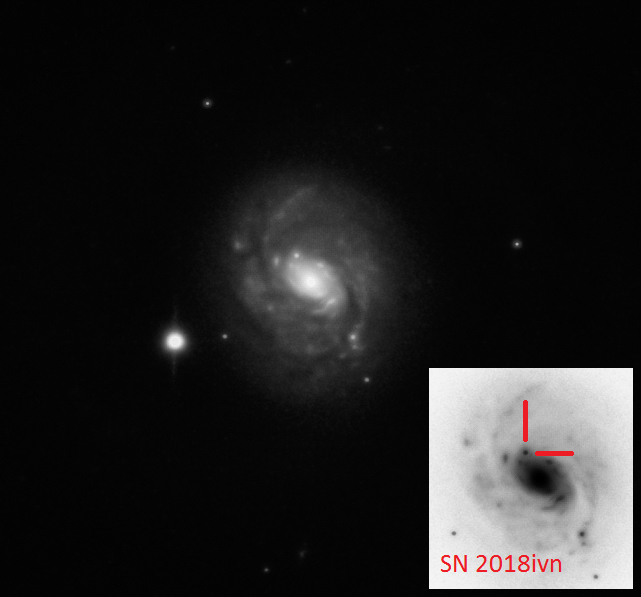 Target Details
This image shows an active supernova that appeared in the galaxy known as Messier 77 or NGC 1068. Messier 77 is located 47 million light-years from Earth and is estimated to be 170,000 light-years in diameter.
SV 2018ivc was discovered by the DLT40 Survey on 24th November, 2018. It is a type II supernova and at the time of it's discovered it was a 15th magnitude and getting brighter.


Capture Details
Data captured 3rd December, 2018.
61x 3 minute exposures with Luminance filter.
Total Exposure = 3 hours.
Equipment Details
Skywatcher Quattro 200 CF
NEQ6 Pro
Atik 428EX Mono
Skywatcher ST-80
QHY5L-II
Processing Details
This image was processed in Pixinsight & Lightroom.
Calibration and Stacking in Pixinsight using Batch PreProcessing
Dynamic Crop - To remove black edges.
Dynamic Background Extraction - To remove gradients.
Channel Combination - To combine RGB channels.
Deconvolution - To bring out some fine detail & tighten stars, 50 iterations.
Dynamic Crop - To reduce the frame to just include the galaxy.
Histogram Transformation - To stretch the image.
Curves Transformation - To boost contrast.

Export as JPEG and import into Lightroom.
No adjustments made in Lightroom
Export final JPEG for upload.