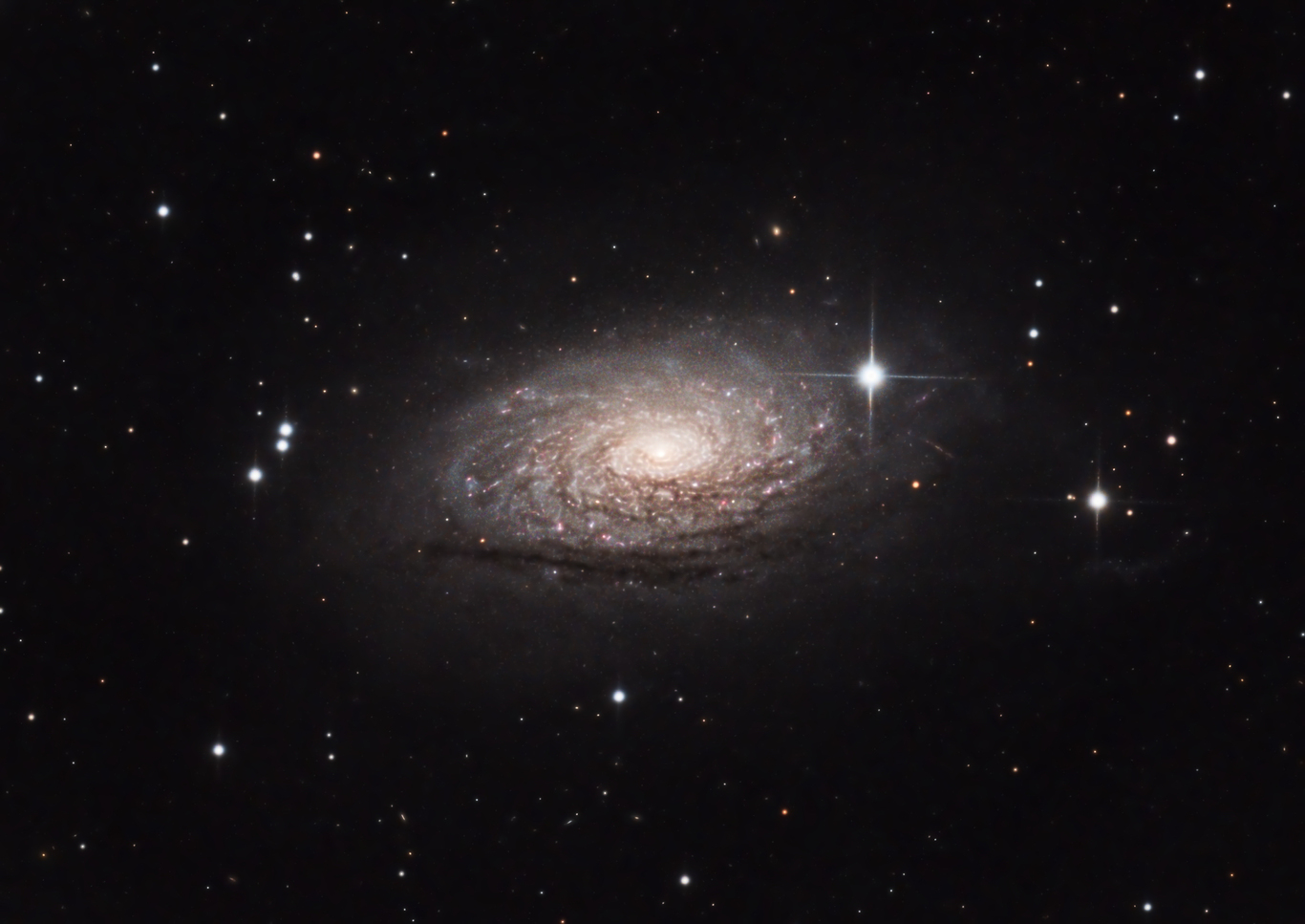 Target Details
Messier 63 or M63, also known as NGC 5055 or the seldom-used Sunflower Galaxy, is a spiral galaxy in the northern constellation of Canes Venatici. The galaxy became listed as object 63 in the Messier Catalogue. The distance to M63, based upon the luminosity-distance measurement is 29 million light-years.
The shape or morphology of this galaxy has a classification of SAbc, indicating a spiral form with no central bar feature (SA) and moderate to loosely wound arms (bc). There is a general lack of large scale continuous spiral structure in visible light, so it is considered a flocculent galaxy. However, when observed in the near infrared, a symmetric, two-arm structure is seen.
M63 is part of the M51 Group, a group of galaxies that also includes M51 (the 'Whirlpool Galaxy'). In 1971, a supernova with a magnitude of 11.8 appeared in one of the arms of M63. It was discovered May 24, 1971 and reached peak light around May 26. The spectrum of SN 1971 I is consistent with a supernova of type I.
Capture Details
Data captured over 6 nights between 19th January & 30th March, 2020.
78x 2 minute exposures with Blue filter (Binned 2x2).
76x 2 minute exposures with Green filter (Binned 2x2).
75x 2 minute exposures with Red filter (Binned 2x2).
376x 3 minute exposures with Luminance filter.
Total Exposure = 26.4 hours.
Equipment Details
Skywatcher Quattro 200 CF
NEQ6 Pro
Atik 460 Mono
Skywatcher ST-80
QHY5L-II
Processing Details
This image was processed in Pixinsight & Lightroom.
Calibration and Stacking in Pixinsight using Batch PreProcessing.
Dynamic Crop - To remove black edges & integration artifacts. (Each Channel)
Automatic Background Extraction - To remove gradients. (RGB Channels)
Dynamic Background Extraction - To remove gradients. (Lum Channel)
Linear Fit - To match brightness of RGB channels (RGB Channels Separately)
Channel Combination - To combine RGB channels.
Photometric Colour Calibration - To calibrate colours.
SCNR - To remove green cast.
Deconvolution - To bring out some fine detail & tighten stars, 100 iterations. (Luminance only)
Multiscale Linear Transform - Noise reduction. (Luminace & RGB separately)
Histogram Transformation - To stretch the RGB & Lum. (Using statistics process to keep background levels evenly)
LRGB Combination - To blend my luminance image with my RGB image.
Histogram Transformation - To clip blacks slightly.
HDR Multiscale Transform - To recover detail in the galaxy core & inner arms, with star mask in place.
UnsharpMask - To sharpen with inverted nebula mask in place to exclude stars & background.
Local Histogram Equalisation - To sharpen / add contrast, with previous mask in place.
Dynamic Crop - To crop away most of the background.
Curves Transformation - To boost contrast.
Curves Transformation - To boost galaxy saturation, with inverted nebula mask in place.
Histogram Transformation - To darken background, with nebula mask in place.
Dark Structure Enhance Script - To pull back some contrast in the galactic arms.
TVGDenoise - To reduce Deconvolution artifacts on galaxy edge, with range mask in place.
Export as JPEG and import into Lightroom.
Export final JPEG for upload.