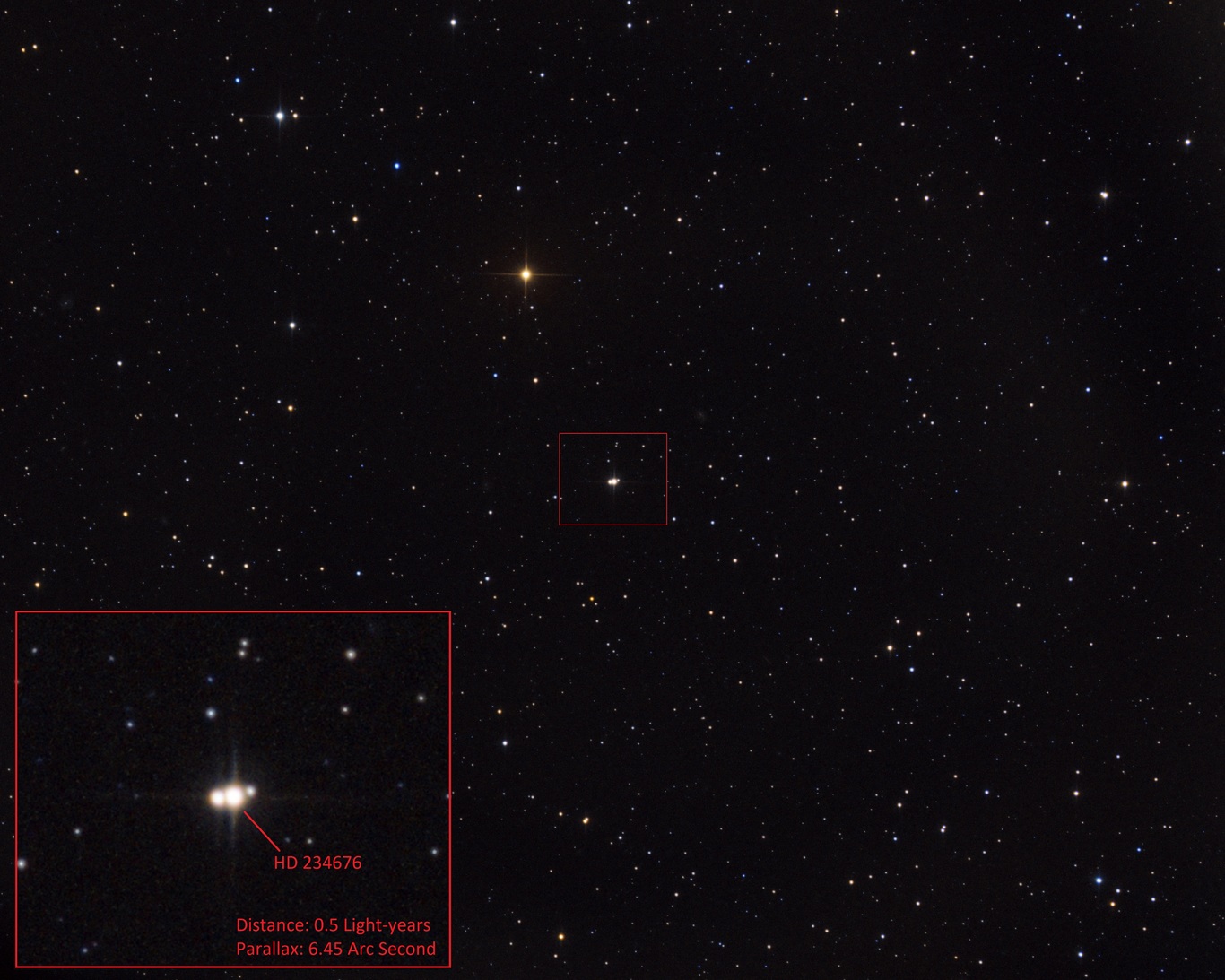 Target Details
HD 234676 is a star system located 0.5 light years from Earth with a parallax value of 6.45 arc-secs.
I could find very little information on this system but it is rumoured to be a binary system.
Capture Details
Data captured 9th October & 6th November, 2020.
24x 2 minute exposures with Blue filter.
30x 2 minute exposures with Green filter.
28x 2 minute exposures with Red filter.
Total Exposure = 2.7 hours.
Equipment Details
Skywatcher Quattro 200 CF
NEQ6 Pro
Atik 460EX Mono
Skywatcher ST-80
QHY5L-II
Processing Details
This image was processed in Pixinsight & Lightroom.
Calibration and Stacking in Pixinsight using Batch PreProcessing.
Dynamic Crop - To remove black edges & integration artifacts. (Each Channel)
Automatic Background Extraction - To remove gradients. (Each Channel)
Linear Fit - To normalise the brightness of each channel.
Channel Combination - To combine RGB channels.
Photometric Colour Calibration - To calibrate colours.
SCNR - To remove green cast.
Deconvolution - To bring out some fine detail & tighten stars, 30 iterations.
Multiscale Linear Transform - Noise reduction.
Histogram Transformation - To stretch the image.
Histogram Transformation - To clip blacks slightly.
Curves Transformation - To boost star saturation, with inverted star mask.
Export as JPEG and import into Lightroom.
Increase Contrast (+25)
Reduce Blacks (-25)
Reduce Saturation (-10)
Export final JPEG for upload.